One of the most frequently asked questions that interior decorators face is how to choose the right painting for the interior space in mind. There are a couple of basic rules, worth keeping in mind before purchasing a work of art. A painting can showcase the host's personality in a fantastic way, and define the mood of the home. Interior decorators unanimously agree that we can't compensate empty walls, even with the most beautiful furniture. They always create a feeling of incompleteness. But how do we get to changing this? And what principles do successful interior decorator follow when it comes to specifically placing an artwork?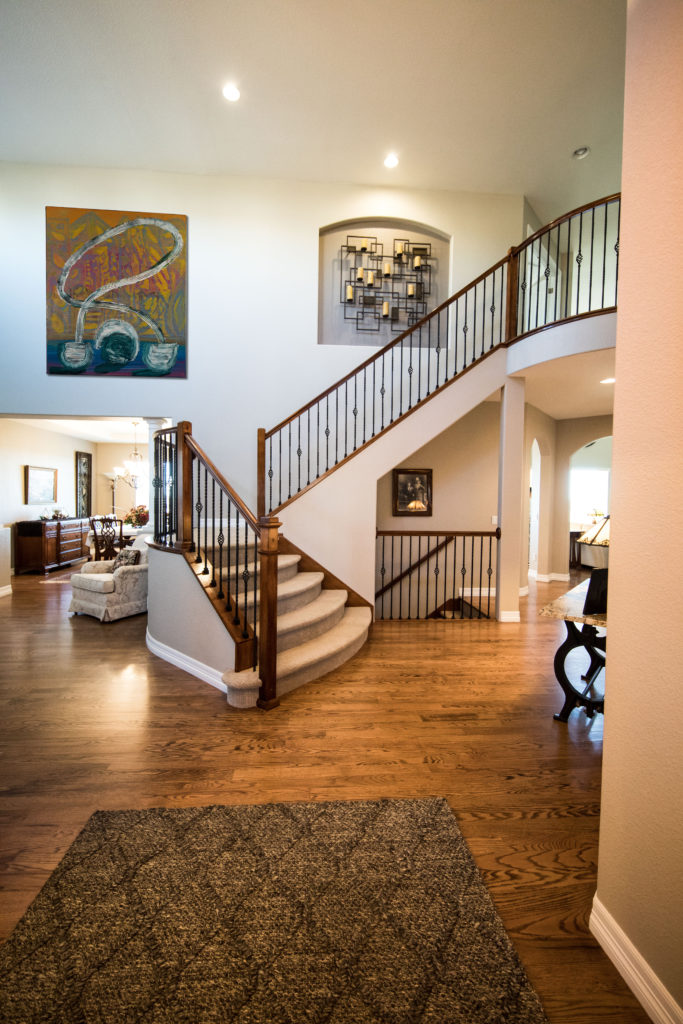 The best part is that a painting is not just decoration but an investment that you take with you if you move, in fact, as time goes on, their value usually goes up. What's more, to invest – unlike when buying a home, you don't need to get a loan. Just spend as much as you want; There's a wide range of selection to choose from.
In this post we are looking for answers to these questions so we've collected some of the guiding principles that you should follow along the way. Success is guaranteed, just select that one particular piece and do a thorough inspection of your home! The white walls of a gallery is not a good reference for our home because it is a sterile environment compared to a furnished interior. If you want to use the wall of your home as a gallery, carefully choose the items you want to display, whether it is multiple pictures on a wall, or a single large painting. And when you first see a painting in a gallery that you would love to take home, consider whether it would have the same effect on a wall in your home as it does in a white environment?
But let's take a look at What and Where!
Kitchen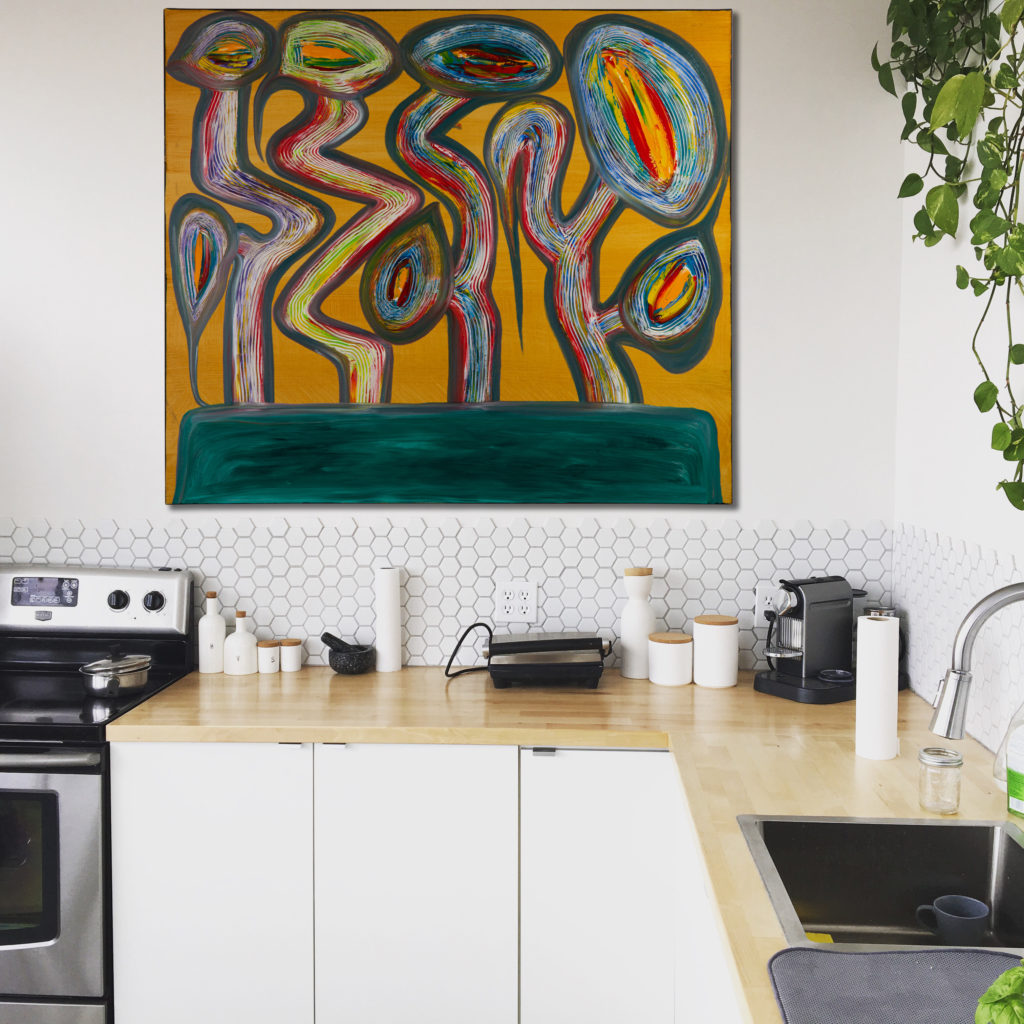 In terms of artwork adorning the walls, the kitchen is not the first thing to come to mind, even though it is often referred to as the heart of your home, and perhaps in most homes this is the most frequently used common area. So it's no question that art can have rightful a place here: Free areas above the counter or possibly blank walls near the sideboard can be the perfect location for a great painting. Choose a smaller piece of art that doesn't divide, but rather complements the space. In terms of subject, it is worth choosing cheerful, social pieces that make it easier to get through the morning rush!
Bedroom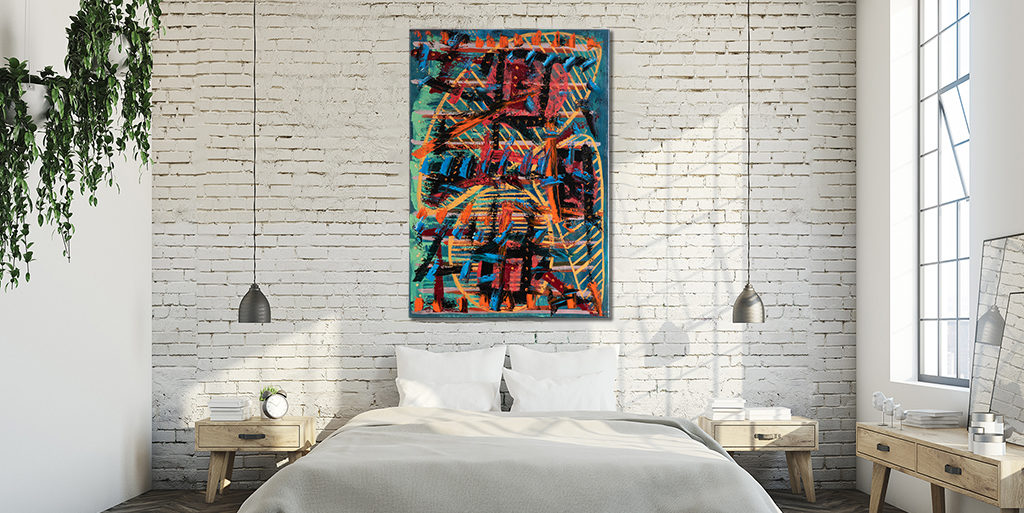 The bedroom is a place of retreat and rest, so the intended painting should reflect that. A painting looks best in the bedroom just above the bed or facing the bed. Choose larger size pieces and place them at eye level. Find abstract paintings with soothing colors or tones. If you like photos or landscapes, choose artwork, whose colors are less vivid. As for the frame, the minimalist style is recommended where the focus is on the painting itself and not the frame.
Study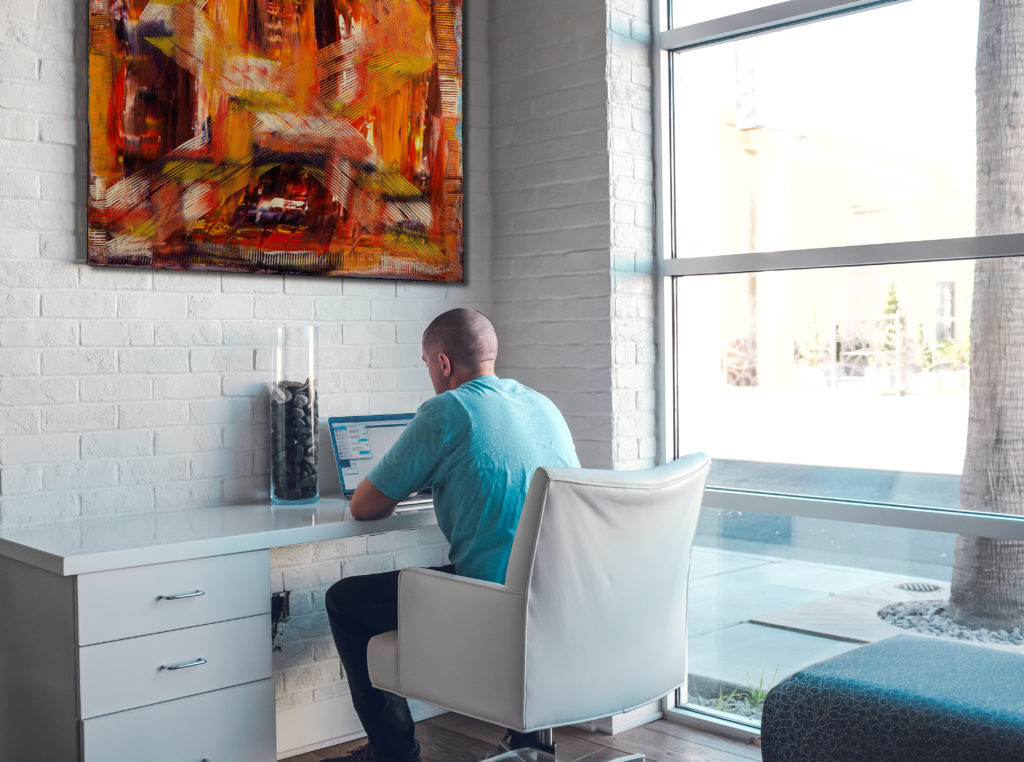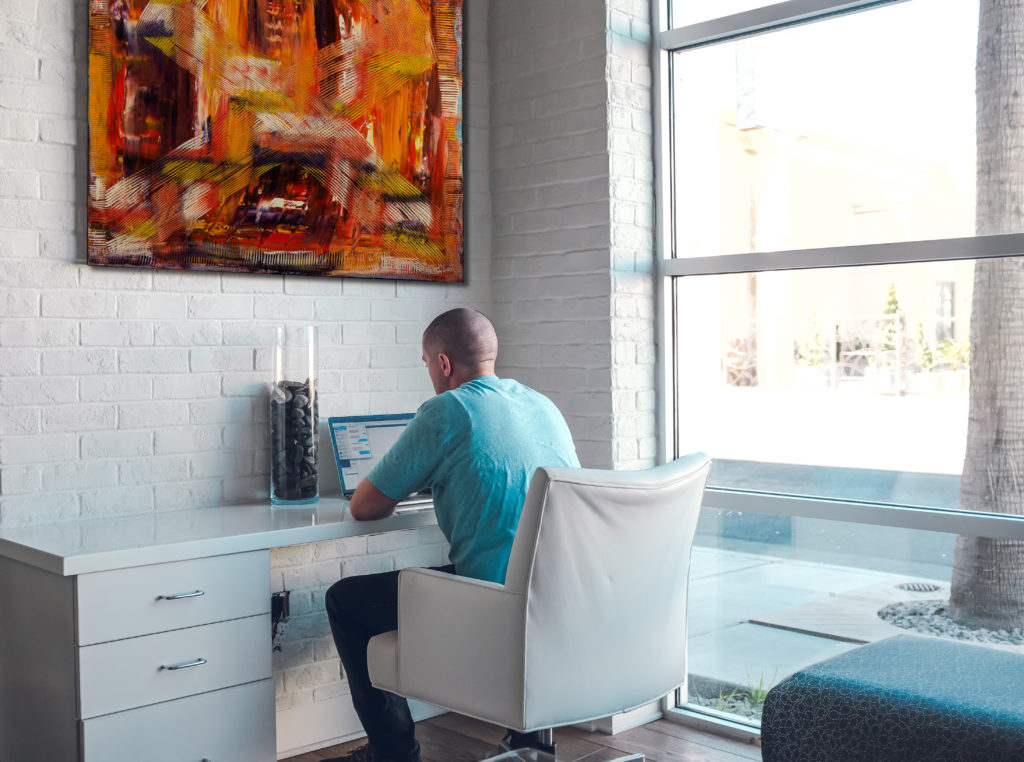 Whether you work from home, or in an office, art is a great way to personalize the space and to constantly inspire and renew you in your work. According to experts, how we feel in a room is decided by the first thirty seconds, so a well-chosen piece of art can even be a game changer, especially if you are expecting important business partners in your office. Choose a piece that reflects the spirit that you and your company represent. You can arrange your pictures on one floating shelf, this way you don't need nails and screws in the wall, and if you want, you can change the paintings weekly. You can read more about choosing a picture for your office in our other post.
Bathroom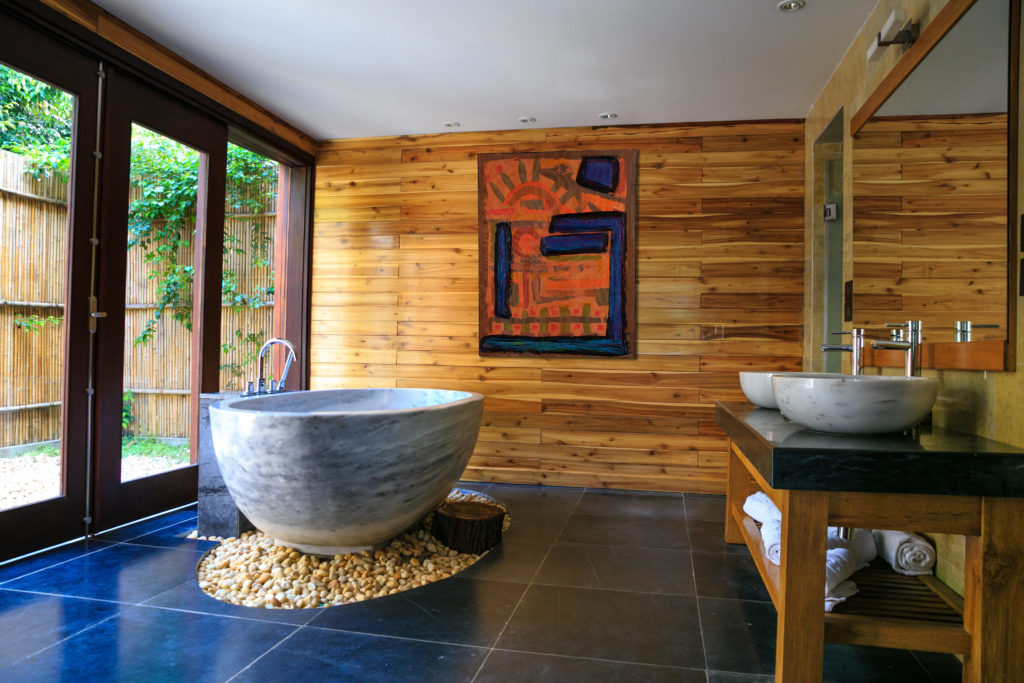 Similarly to the kitchen, the bathroom is not a typical place for artwork. If you think there's room for a nice painting anyway, bringing the painting into harmony with function is worth considering. With multi – level homes, if it's a downstairs powder room or a small bathroom, you might want to have a little vibrant, fun piece on the wall. For the upstairs master bathroom, please consider a rather relaxed piece that suggests balance. In such bathrooms, diptychs, or two similarly themed paintings look very good: It can be two identical abstract images placed to face different directions, or two different pieces with the same theme. Place them either above the toilet sink, or towel rack, or on the wall above the bathtub.
Living room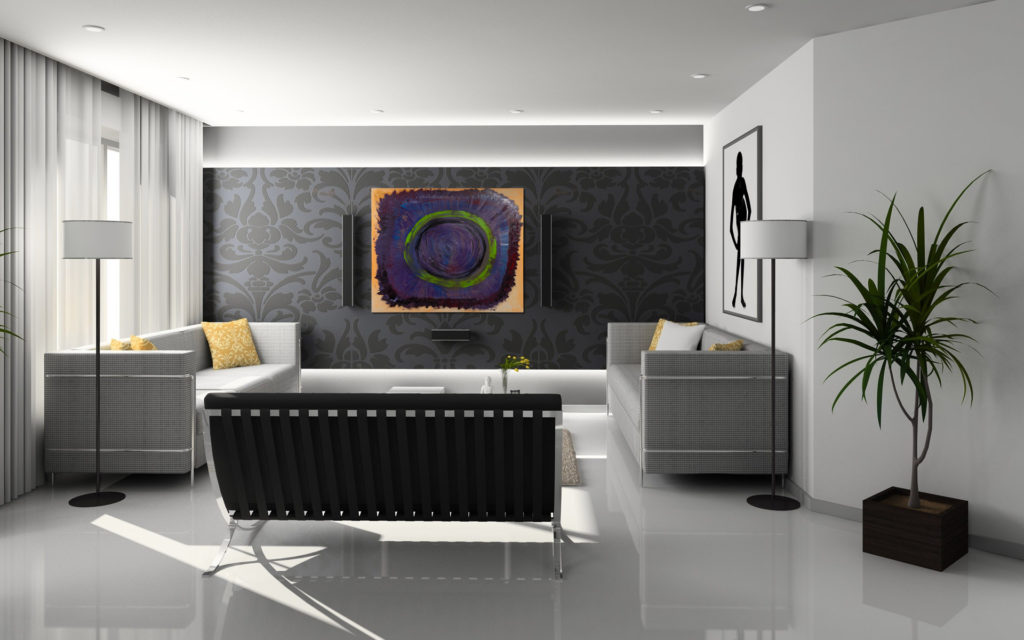 When we talk about decorating a home with paintings, the most exciting and, of course, the most delicate area for a painting is the living room. There's a greater pressure in this regard as this is the room most visitors see, and you probably spend most of your time here with your family. Choose a piece that will start the conversation and enhance the mood of the room. Try hanging a larger piece that looks good on the wall by itself. You can set the mood for the entire home whether it is just a room, or a small apartment. Sometimes you have to step out of your comfort zone and try bolder pieces: choose a painting that uses special color, or even 3D effect, and enjoy the aesthetic experience of that special piece!
What if you have the picture but don't know where to put it?

Once you have found the desired piece, you need to think about how the painting fits into your interior. This is not an easy task as we have to take into account the dominant style and the specific features of the interior space. If you like a painting, check out the artist's other works! There's a good chance you'll find something that grabs your attention and, last but not least, makes it easier for you to decorate your own home. And let's not forget the experience of discovering the creative activity of an artist.