The paintings of Art & More Creative Solutions have been recently added to Qualysoft's Budapest office decor. The artwork was well received and liked by colleagues from the very first moment it went on display, consequently staff members found the office's colorful interior more cheerful and inspiring.
The Qualysoft Group offers customized, innovative and flexible solutions as an IT consulting and service company. Its main areas are financial services, energy services, industry and commerce, media and telecommunications, and public administration. As the IT industry is particularly concerned with the satisfaction of its employees, there was no question at Qualysoft of replacing the old and boring wall decor with inspiring colorful artwork.
"We can read about the shortage of labor in different sectors almost daily; retaining the workforce in some cases, is the sign of the operability of the companies. Therefore, it does matter what kind of conditions the companies provide their employees " "says the HR Manager at Qualysoft. "We don't want our staff to think of their offices as just a workplace covered with gray walls and carpet, some dull place where they don't really want to be," he adds.
In addition to the open office space, artworks have been added to the executive offices, which gently suggest the high quality of Qualysoft's services. They create trust in the partners and make the difficult negotiations much easier. It is easier to talk about why a particular picture has been selected to go on a certain office wall, why we picked it, or what we see in it. A well-chosen painting reflects pride, sophistication, modernity and innovation from the company.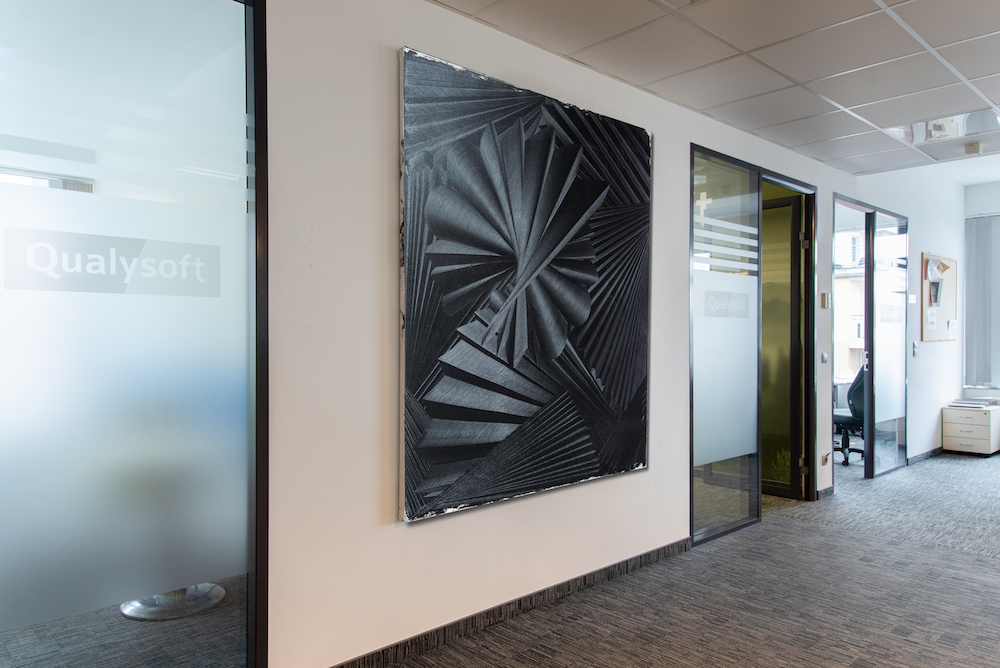 The experience of the last eight months shows that our employees find the atmosphere of the office pleasant, often initiate conversations about the pictures, and the works of art help the flow of information. Productivity requires elements that are not directly related to work: art inspires, reduces stress and improves efficiency. There's no question, therefore, that at Qualysoft it is part of a retention strategy to boost the good vibes of the office with unique paintings.
"With the transformation of the labor market, the meaning and role of the workplace are quite different even from a few years ago. We have recognized the importance of the work environment in attracting and retaining employees, and want to use the office as a reflection of our employer brand. "- adds the expert.